Author & illustrator tea, Monday March 23, Red Hook NY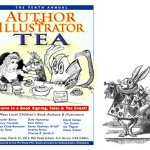 Hudson Valley residents, come on by the 10th annual author and illustrator tea this Monday, March 23 from 3:30 to 5:00 pm. It's at Mill Road School, 9 Mill Road, Red Hook New York 12571.
I'll be there, along with a bunch of other talented writer and illustrators. Hope to see you there!