Pink Hair and Other Terrible Ideas (February 2019, Capstone)Â 
Twelve-year-old Josephine has a lot on her plate―best friend issues, first crush issues, divorced parent issues, twin brother issues . . . and then her mom hits her with news that shakes her to her core: a breast cancer diagnosis. Josephine doesn't want anyone to know―not even her best friend. Sharing the news means it's actually real, and that's something she's not ready to face. Plus it would mean dealing with the stares―and pity―of her classmates. She got enough of that when her parents split up. Unfortunately for Josephine, her twin brother, Chance, doesn't feel the same way. And when Chance dyes his hair pink to support his mom, the cat is out of the bag. Suddenly Josephine has to rethink her priorities. Does getting an invite to the party of the year matter when your mom is sick? And what if it does matter? Does that make her a monster?
Pre-order a signed copy of Pink Hair and Other Terrible Ideas from Oblong Books & Music
Pre-order on Amazon and Barnes & Noble 
Click here to download the discussion guide for Pink Hair and Other Terrible Ideas.
My Year of Epic Rock (Sourcebooks)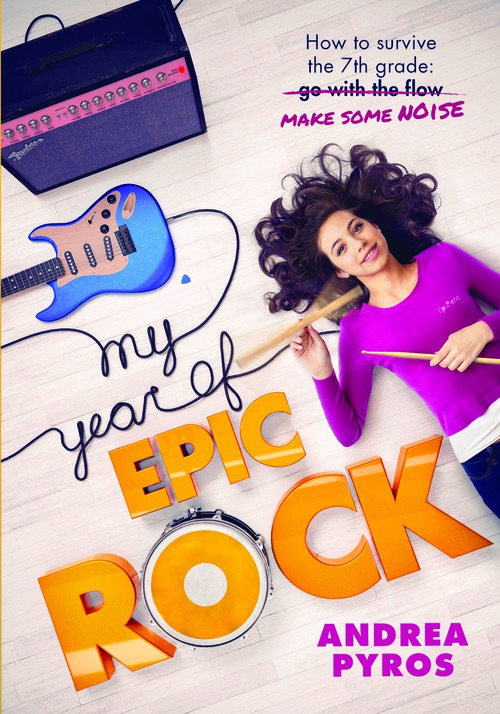 "A good choice for younger readers…valuable for its portrayal of a young person living with serious food allergies. " -Â Kirkus
"Nina is brave and at times, pragmatic, and recognizes she deserves to be treated better. With food allergies becoming commonplace for many kids, Nina's struggles will hit the right note with readers…Nina is a likable character and her story feels authentic A charming addition to upper elementary and middle school collections" -Â School Library Journal
"A perfect read for anyone who feels BFF-challenged, and the food allergy aspect may attract kids who have such issues…the band rocks out at the end, but that's just the icing Nina's ability to finally stand up to the girl she always thought was her friend is the cake" -Â Booklist
If Life Was Like a Song
Nina Simmons' song would be "You Can't Always Eat What You Want." (Peanut allergies, ugh). But that's okay, because as her best friend Brianna always said, "We're All in This Together."
Until the first day of the seventh grade, when Brianna dumps her to be BFFs with the popular new girl. Left all alone, Nina is forced to socialize with "her own kind"–banished to the peanut-free table with the other allergy outcasts. As a joke, she tells her new pals they should form a rock band called EpiPens. (Get it?) Apparently, allergy sufferers don't understand sarcasm, because the next thing Nina knows she's the lead drummer.
Now Nina has to decide: adopt a picture-perfect pop personality to fit in with Bri and her new BFF or embrace her inner rocker and the spotlight. Well..
Call Me a Rock Star, Maybe.
Available at IndieBound, Amazon, and Barnes & Noble